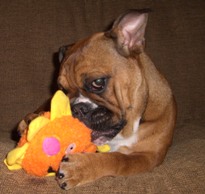 I must admit when I first started learning about the History of English Bulldogs I was very surprised that they were originally used by Farmers and Butchers to bring Bulls down for slaughtering…
 Apparently these more aggressive English Bulldogs (the aggressiveness has been long since bred out of modern Bulldogs) would grab onto the very sensitive face of a multi-ton Bull and bring it to the ground! 
That's right, a multi-ton Bull brought to the ground by a 70-80 pound dog! 
The short snouts of the English Bulldogs would help to keep the blood of the Bull from going into their noses – that explains those scrunched up faces…
I am happy to report that modern English Bulldogs are very playful and loveable. 
In fact, in many of the books that I have read Bulldogs are reported to have great temperments, play well with all dogs, and are very friendly. 
Our little English Bulldog is vertainly very loveable and she loves to wrestle with toys (not 2-ton Bulls)….
Quite the history though for this amazing breed of Dog that we love so much.
 Until next time,
Kyle and Trinity
www.EnglishBulldogBlog.com